In addition to the indicated tours, we can carry out individual activities, according to the client's intentions. Please contact us.
The tours "Rocha da Pena (Salir)"
"Fonte Benémola e Pirinéu (Querença)" and "Escarpão Plateau" take
place in the area of the aspiring Geopark Geoparque Algarvensis. The geological path in the geosite "Escarpão Plateau" was
created by a team consisting of Delminda Moura, Sónia Oliveira and
Luís Pereira (coordinator).
Currently, the following pedestrian geological trails,
in the countryside and in the city
can be booked now: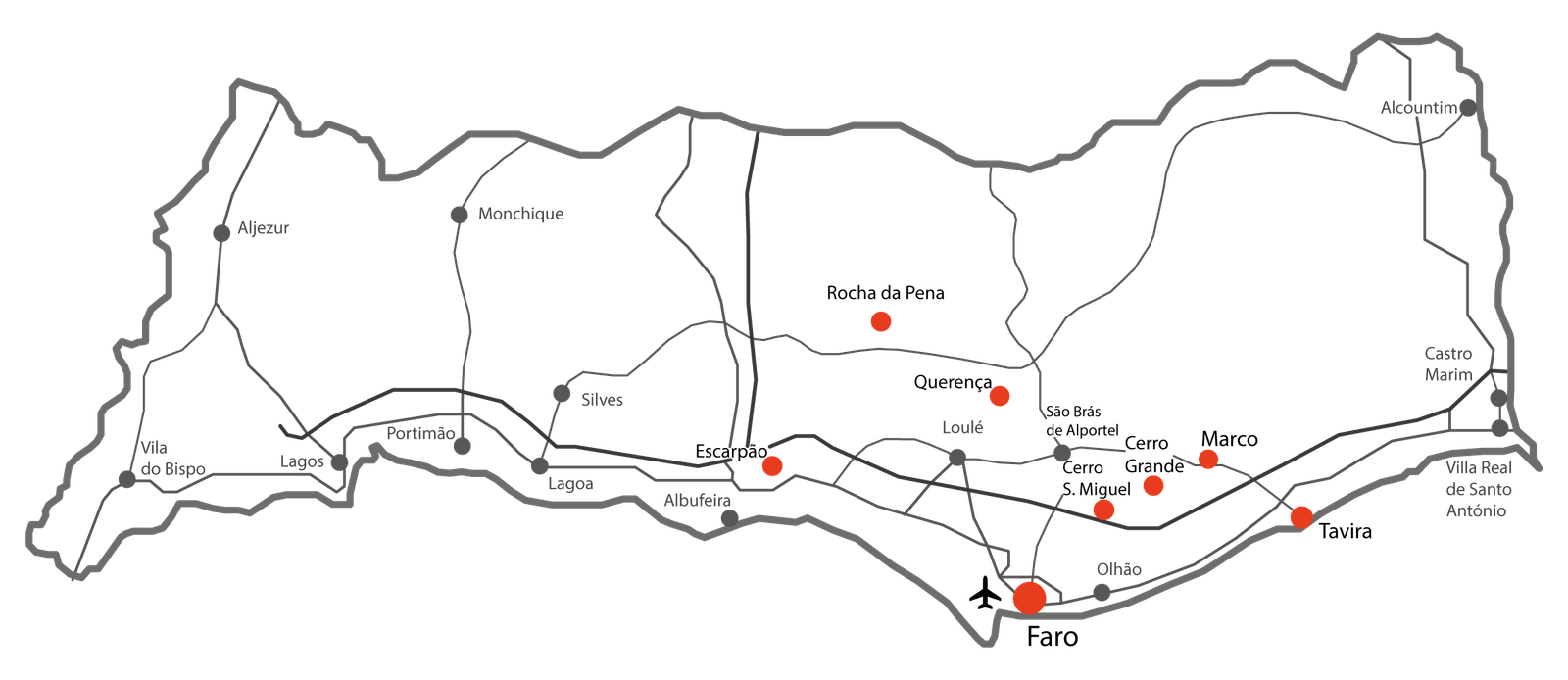 Other offers are in preparation.
Booking and Payment Conditions
(Which is usually in fine print)
If a tour is booked more than 48 hours before its start: you send an e-mail to info@geoloquium.eu specifying the desired tour, date and time, the number of participants, and their ages. In order to issue a receipt, we ask you to send us your data such as name, address, and tax number.

In the reply, we will inform you of the total amount and our IBAN and confirm the appointment.

You can transfer the entire amount or half at first. The remainder is then paid in cash on the day of the visit.

Please send us the confirmation of the transfer. The reservation is only valid after paying at least half of the total amount.

We confirm the receipt of the payment, as well as the date and time again, and provide detailed information about the meeting point.

In case of cancellation up to 48 hours before the start of the tour, 100% of the payment will be refunded. If the cancellation is made after this deadline and up to 12 hours before the start of the tour, 50% of the payment will be refunded. Thereafter and in the event that no customer appears at the meeting point, there will be no refund of the amount paid. If the tour is cancelled by us,

100% of the paid amount will of course be refunded.

If a tour is booked less than 48 hours before its start time, it can be paid at the meeting point and in cash. Please get in touch with us by telephone or e-mail. If you cancel in this case, we look forward to hearing from you in time.

The indicated prices do not include transport. Traveling to the meeting point is the customer's responsibility.

You have no transportation? Please contact us. We can help you find a solution.